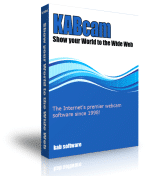 KABcam
Show your World to the Wide Web
With KABcam webcam software you can use your Windows Camera or Network Camera to publish live pictures on your web page. All you need is a Windows compatible web camera and an Internet connection.
New – Improved support for USB and built-in cameras
New – Support for network cameras that provide video streams
New – Support for SFTP and FTPS
New – Improved weather integration, choose from OpenWeatherMap and National Weather Service (US)
New – New settings window for easier navigation
Automatically snaps a picture and uploads it to your web page.
Include text, date/time and even an image (logo) on your picture.
The premier Internet webcam software since 1998!

Buy Now Only $24.95
Download Download the KABcam (free 20 day trial)
Looking for KABcam version 4? You can still download it here.