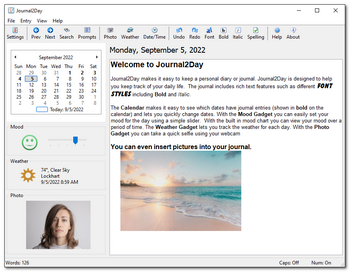 Journal2Day
Keeping your private thoughts private
Journal2Day is a Windows diary and journal program for people who like to keep their private thoughts private instead of posting them online. Journal2Day can be used as a diary, prayer journal, daily journal or for any information you want to keep track of while keeping it private and keeping things simple.
Show your mood with feature rich text editing, including font sizes and styles. You can even include pictures in your journal entry.
Buy Now – $19.99
Download Journal2Day
Keep your journal secure with password protection
Journal2Day lets you set a password on your journal. Password protected journals use 256 bit AES encryption to keep your journal secure.
Track your daily mood
Track your daily mood with the innovative Mood Gadget, with a simple slider you can easily set your mood and the colorful icon makes it easy to see your mood on past journal entries.  With the Mood Chart you can track you mood over the past week, month, year or any time period.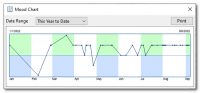 Take a daily selfie
With the Photo Gadget you can easily take a selfie using your computer's camera.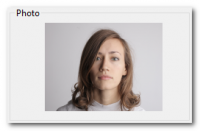 Use writing prompts to jump start your writing
Built in writing prompts help you get started when you're not sure what to write.  Includes famous quotes, prompts and Bible verses.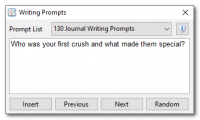 A feature rich journaling program
Journal2Day is full of features such as the mood gadget and chart, daily weather, photo gadget, 256 AES encryption, export or print your journal and more. See the features below for more information.
Buy Now – $19.99
Download Journal2Day
Font Styles Use different fonts, sizes and styles to liven up your journal entry.
Pictures Include photos in your journal entry, show what you did during the day.
Mood Gadget Track your daily mood using the easy mood slider.
Mood Chart Track your daily mood over a period of time such as weekly, monthly or yearly.
Weather Gadget Include the current weather in your journal. An automatic feature can add the weather as you begin typing.
Photo Gadget Take a daily selfie, see how you've changed over time.
Search Easily search through your journal entries, the search results show your mood for each day.
Writing Prompts Not sure what to write? Journal2Day includes over 500 prompts and verses to help you get started.
256-bit AES Encryption Secure your journal with a password and AES encryption.
Spell Check Check your journal entry spelling
Journal Export Save all or portions of your journal to a Word compatible file.
Printing Print your daily journal entry.
Backups Automatic backup your journal
Online Help